Covered Models by El-Rayah
El-Rayah offer main control valve parts for Doosan excavators such as both the main and overload relief valves and complete seal kits for most common models in Egypt.
Old models such as solar 280Lc-3 and solar 220Lc-3 and Solar 290Lc-V which is equipped with main control valve Toshiba Dx28-35.
New solar V series of excavators Which is equipped with Kayaba main control valve KVMG series specially model KVMG270-DA (effective models : S300/S340/S370LC-V)
Main parts we offer :-
Seal kit
Main relief valve
Main relief for control valve Kayaba KVMG270-DA (effective models : S300LCV/S340LC-V/S370LC-V and DX300LC /DX300LCA), relief pressure is 330/350 Kg/cm2 with part numbers C011B-50146 and 420-00257
* Main relief valve is located between the neutral passage HP and low pressure passage LP,and the oil from HP is filled in the chamber D through the main poppet C.2) If the pressure of HP line reaches to the set spring force of the pilot poppet, pilot poppet Fopens. Then the oil reaches to the low pressured side LP through G.3) If the pilot poppet opens, the pressure of D chamber drops and consequently main poppet Copens having the oil of HP flows directly to the passage LP.4) Up pressure functionIf a pilot signal comes to "pi" port, the piston H moves to the limited position by the plug I, then the spring force of pilot poppet increases resulting as the pressure up of HP line's max. limited pressure value.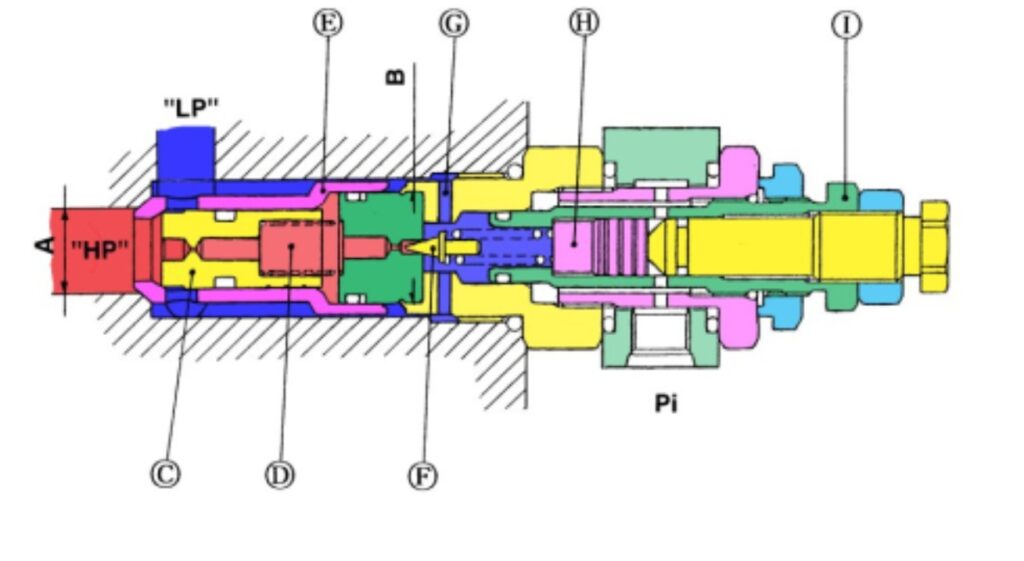 Main relief for control valve Toshiba DX28 (effective models : S280LC-3, S220LC-3 and S290LC-V), relief pressure is 300/320 Kg/cm2 with part numbers (3537-358 & 2420-1225 & 2420-1159 )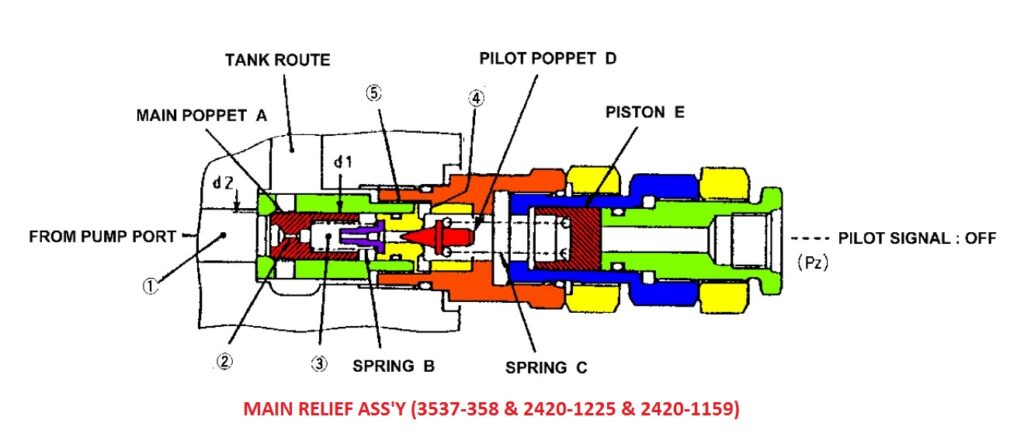 Over load relief valve
Main relief for control valve Kayaba KVMG270-DA (effective models : S300LCV/S340LC-V/S370LC-V and DX300LC /DX300LCA), also it is suitable for S420Lc-V & S470Lc-V wtih control valve model KVMG400 with part numbers C011B-50146 and 420-00257
Main relief for control valve Toshiba DX28 (effective models : S280LC-3, S220LC-3 and S290LC-V) with parts numbers ( 3537-357-360-20 & 2420-1226 )